Start Selling Your Home On Your Own
I am so happy to see that you are thinking about selling your home on your own.  You are on the easy path to save thousands of dollars.  Just imagine, if you have a home worth $250,000 you could save a minimum of $7,500 dollars (buyer with an agent) and a maximum of $15,000 (buyer with no agent).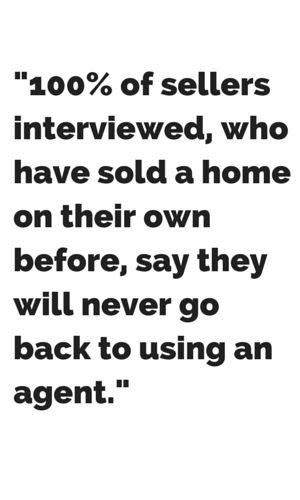 There is no single way you can save more money this year.
Why do I say this is easy?  There are two reasons.
First, every seller I interview, who has sold a home on their own before, says they will never go back to using an agent.  That's right.  100% of sellers interviewed, who have sold a home on their own before, say they will never go back to using an agent.  What do they know?  The process is easy!
Secondly, you do most of the work when selling your home on your own anyway.  Let's take a look at the breakdown below at each step in the process to see who does the work when you use an agent.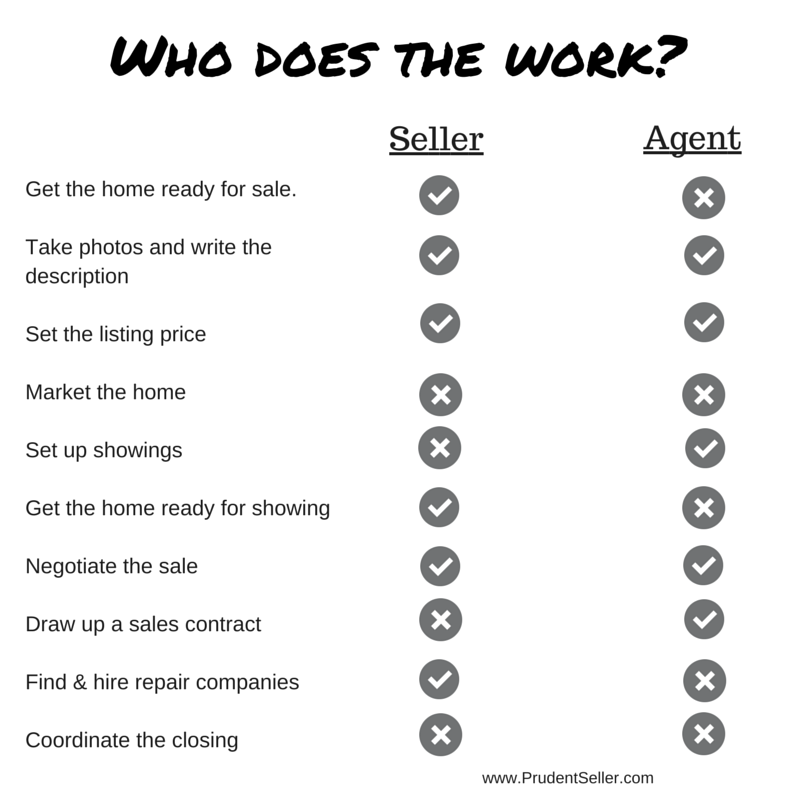 Let's break each of these down.
Get the home ready for sale. Let's face it,  you are going to do all the hard work to make  your home look great for the sale.  A good agent will give you guidance here, but many do not.
Take photos and write the description. A good agent will know what pictures to take to highlight the great features of your home.  Not all agents take great pictures.  Don't believe me?  Just got to realtor.com and look at some of the home photos.  These are homes listed by the best of real estate agents.  Is there anything there you can't do with your phone?  When it comes to the description, there is no secret here either.  You want to just draw the buyer's attention to the best features of the home.  The home is going to sell itself.  No matter how good you can write, you are not going to sell or not your home with a paragraph of text.  So don't sweat it.  
Set the listing price. Here is how this conversation is going to go with most real estate agents.  Agent asks, "How much do you want to list your home for?"  Seller answers, "I was hoping to get ____ for my home."  If your amount is under market price, the agent is not going to try to dissuade you because he knows your home will sell faster and he will get his commission faster.  If your price is over market value, he is going to try to talk you down an may do some work to find comps if you resist.
Market the home. Let's face it, neither you nor the agent does this in today's technology driven world.  The agent is going to list it on the MLS system and wait for buyers.  If he has a buyer that is looking for a home like your's he is going to tell the buyer so he can get the commission from both the buyer and the seller.  In today's market, your buyer leads are coming from the internet and the agent's MLS system.  Guess what, you have access to that same MLS system for a flat fee!
Set up showings. Your agent will take calls from buyers and other agents wanting to see your home.  If you are still living in your home, your agent will call you to make sure it is okay.  If the buyer has an agent, her agent will come to your home with the buyer.  Your agent will not be with them.  If the buyer does not have an agent, your agent will come to your home with the buyer, showcase his skills and try get the buyer to hire him as her agent.
Get the home ready for showing. Once you receive that call from your agent, you have to do all the work.  You have to clean the home, figure out what to do with the pets, and get you and your kids out of the home for an hour or two.  I've never run across an agent who was willing to watch my dog while someone was showing my home.
Negotiate the sale. Once you get an offer, the agent comes to you with the offer and a great incentive to convince you to take the offer.  If you don't sell, he does not get paid.  The ball is entirely in your court at this point and every other party in the transaction, your agent, the buyer and her agent, all want you to say "Yes!"
Draw up a sales contract. Does the agent technically do this?  Yes and no.  He fills in a few blanks in a template.  You are using his contract which does nothing to protect you.  When selling your home on your own, your real estate attorney will draw up a contract to protect your interests.   You can also find them online for a nominal fee.
Find & hire repair companies. Once the sales contract is signed, the buyer will have the home inspected.  Any repairs needed fall squarely on your shoulders.  You have to find the contractor, supervise the repairs, and pay the bill.
Coordinate the closing. The last few days can be hectic in any closing, especially when the buyer is getting financing.  The great news is you don't have to do anything and neither does your agent.  The Title Company does it all.
So what do I need to get started?
Getting started to sell your home takes a bit of research and hiring some professionals.
Get your free case study showing how  a couple sold their home in 3 days without a Real Estate Agent
Start by setting the price for your home
Let's face it, if you can't get what you want for your home, it may not be worth doing anything else.  Start with pricing.
The best way to find out what your home is worth is to have a professional give you an appraisal. You will pay $350 to $400 for this service, but you will get it back during the negotiation.  How?  If you have an appraisal completed, you can use that during negotiation to ensure the final sale price is close to that appraisal.  Let's imagine y our home appraises for $258,000 and you list it for $265,000.  You don't have to disclose you have an appraisal.  It is a tough market so you are getting some low ball offers.  You are in the middle of a negotiation and the seller won't budge from $250,000.  At that point, you can show the appraisal to show the buyer third-party validation of your price.
Don't want to lay out the cash? That is okay too.  You are going to need to invest a few hours of time in research.   You can do this by going to Zillow.com, noting what homes in your area have sold for (price per square foot) and what they are listed for.  Learn more about the approach I suggest using by learning my Home Value Estimator System.
Get Your Home Ready for Sale
Now that you have your price is set, you are going to need to make your home look great.  This is the hardest part of the entire process.  The good news is that you will be doing this whether or not you use an agent.  So roll up your sleeves and get to work my friend.
You are doing this now before you list your home so you can take some great pictures and it is not uncommon to get calls right away once you list your home for sale.
Start outside by getting the toys out of the yard, cleaning up the landscaping, and pressure washing .
Move inside to clean everything very well (walls, cabinets, countertops, bathrooms, baseboards, windows inside and out, etc.).  You may need to paint rooms when a good cleaning just won't make them look great.  Consider spending a couple hundred dollars on a cleaning crew to come in and do this work or you.
Declutter your home.  Spend most of your energy on your kitchen and bathroom.
Make any necessary repairs. Be sure to fix any leaky faucets, broken lights, replace burnt out light bulbs, and look for anything else that might be checked by a potential buyer.  After doing this work, one interviewee told me he could not believe he had been living with all of these minor annoyances for all those years.
Check out my articles on getting your home ready for sale to get more tips and checklists.
List Your Home for Sale
Your research is complete and your home is ready for buyers to come see it.  Now it is time to tell the world that your home is for sale.
Start by putting a for sale sign outside of your home. You can get these at your local hardware store or just order them on Amazon (Affiliate Link).
List your home for sale on Zillow. Check out my article for step by step instructions.
Consider spending some money to place your home on the MLS system (more about that later).
Get your free case study showing how  a couple sold their home in 3 days without a Real Estate Agent
What About All The Legal Paperwork And Closing?
Wait, I still have a thousand and one questions!  I understand.  Above is what you need to get started.  Next, you will need to get your professionals in place.
Real Estate Attorney – Your real estate attorney will make sure that you have all the legal paperwork in place. If you have an attorney, you will not need to worry about anything but getting someone to buy  your home.  Your attorney will take care of the sales contract, ensure your disclosures are in place, and take care of the legal documents required by you during closing.  It is that simple!
Title Company – You will hire a title company to manage the closing. They will ensure (and insure) your title is clear and ready to go.  They will coordinate the closing with the buyer.   You can sit back and just respond to their questions.
Isn't there anything else I need to do during closing?
No.  Outside of making your home available to the buyer and his people (inspectors, surveyors, etc.), your team of professionals will handle everything.  Best of all, their fees are paid at closing.
So what is next?
Great question!  Get your free case study showing how  a couple sold their home in 3 days without a Real Estate Agent